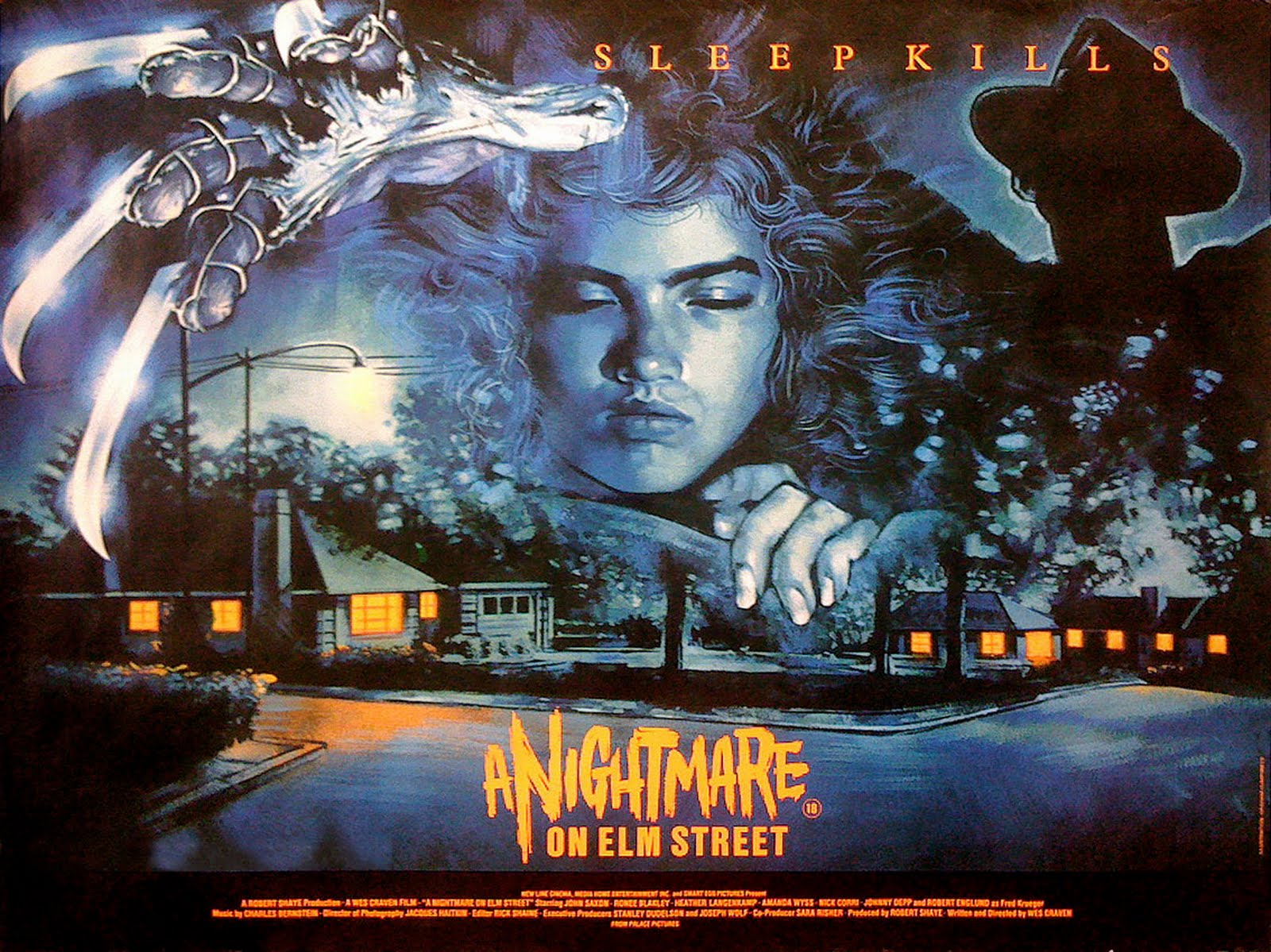 Wes Craven directs nightmarish horror film A Nightmare on Elm Street, as teenagers start being killed in their sleep by a mysterious figure, teen Nancy tries to get to the bottom of the problem and solve it, aware that she and her friends are vulnerable whenever they fall asleep, the film stars Heather Langenkramp, Johnny Depp, Robert Englund, Amanda Wyss.
Horr takes an interesting and inventive turn in a story that just feels pretty unique with its terrifying set up and with the late Wes Cravens imagination and creativity, this isn't a film about a haunting or a slasher flick but it has elements of both with an engaging plot that takes some interesting twists and turns and some great pacing, being just 91 minutes long but highly acclaimed and pretty well put together. The cast is solid with some good performances from its young actors, Heather Langenkramp is great as Nancy Thompson, a character who's forced to confront Freddie Krueger and tries to do something about the situation an we also get a good show and debut from a young Johnny Depp as Glen Lantz, enthusiastic and really into his role.
It's sort of amazing how compact and tight Nightmare on Elm Street manages to be in presenting a now very iconic horror character in Freddie Krueger, terrifying in his appearance and abilities and barely explained, something that just adds to the intrigue about him and the terror surrounding him, modern horror films can get so bogged down in explaining the why and what when it comes to supernatural forces that the reveals often end up being dull and anti-climactic. But the great thing about the film is that it doesn't explain much of anything at first and we find out more as things go on, just like the characters do, making it feel like more of a developing, progressing story that you want to get to the bottom of. And of course the effects, Craven doesn't hold back in some creatively put together death scenes which made use of the technology at the time, scenes that to date are still pretty gruesome and very gory, with a killer that can inhabit your dreams and essentially do anything in the dream world, you have a lot of room for creativity and that definitely shows in some scenes.
The plot is also strong because it maintains its intrigue and your engagement as it goes on, building to a fever pitch later on and maintaining that tension quite well, the trope of the seemingly unbeatable antagonist/force is played out well as you have no idea how Krueger will be stopped/if he will be at all and it's great to watch the characters go about and try to do something about him anyway as they try to survive. A Nightmare on Elm Street is a horror classic and refreshingly creative idea done well, with some memorable scenes and of course a very memorable villain in Krueger, a staple of Cravens career and of modern horror in general.
8/10
. Creative set up which is well executed, plot stays engaging
. Freddie Krueger has some imaginative character design/abilities
. Good use of music in scenes to build tension
. Doesn't hold back on the gore which works to make for some gruesome scenes