So this is a sort of ongoing feature that I haven't updated for a while but alas, time goes on and more MCU films come out, 3 new ones since I last posted this list in fact (Civil War, Doctor Strange and Guardians Vol 2), so here's my new, updated list and damn I should just wait until Spiderman Homecoming comes out then update it but screw it, I just like writing these lists.
Captain America: Civil War – 9/10
My actual new favourite film of the MCU is.. well the best I say, an excellently well crafted film with twists, turns, a very engaging plot and a level of stakes and depth that's brought into the Marvel films (well developed on I suppose) with actual loss and a feeling of responsibility put upon The Avengers, the drama is palpable and hard hitting, changing characters relationships forever, the action is spectacular, memorable and very well choreographed. Civil War feels like a crescendo of events since the first Avengers in a logical way and plays out pretty believably actually, it hurts to see your favourite characters fight and that goes to show the level of investment the MCU has over you, this is the pinnacle of the MCU so far in my opinion and deservedly so.
Guardians Of The Galaxy – 9/10
So I previously had some serious thinking to do with picking my number 1 but since Civil War, the original Guardians is down to number two, with it being one of the most well received films in the MCU and one of the most well put together ones as well, it's so easily re-watchable and it just about sums up both the tone that Marvel's been going for with their films and the reason why a lot of people love Marvels' films. The cast is great and they play off each other both naturally and entertainingly, couple that with an interesting plot, great writing and visuals and you have Guardians, the band of misfits in a feature film that really shouldn't have worked but did.
Avengers Age Of Ultron – 9/10
I love Age Of Ultron,  no joke, probably more than I thought I would and the magic of seeing The Avengers on screen again wasn't lost for me but just enhanced with seeing even more characters, Ultron is a great, flawed villain who got more depth to him in the movies than in comics. And the new additions in Scarlett Witch and Quicksilver didn't feel like overkill, the character interaction was great and it has some of the best writing in a Marvel film with back and forths, jokes and general dialogue and while the third act may have felt a bit rushed, the feeling of peril and tension is prevalent and the action is top notch. And I've actually re-watched AOU at least 4 or 5 times, a few times more than The Avengers actually.
Captain America The Winter Soldier – 8/10
The Winter Soldier is an excellently crafted film, bringing a needed darker and grounded tone to the MCU, it's very much a spy thriller and it plays out similarly to a few non comic book spy films with the premise of the main, good organization being compromised or infiltrated but with some of your favourite Marvel characters in the fray, not too many comic book films have tried to be conspiracy thrillers so the ambition is here for sure. The action in it is some of the best in any Marvel film and it's great to see some depth added to Cap and a great nemesis for him in Bucky/The winter soldier who Cap simply won't put down… and who's also just about a match for him physically. The plot was thrilling and engaging throughout and it had a good pay off at the end.
The Avengers – 8/10
The Avengers was everyone's' favourite Marvel film until Guardians and or Age Of Ultron and deservedly so, it was awesome to see some of Marvels' most iconic heroes fighting… each other initially and fighting together, the writing was brilliant and you can tell Whedon really had fun with the characters and their interactions, which made for half of the films entertainment value. Loki was/still is a great villain and while he was overcome a bit easily – villains being beaten easily is a weakness for the MCU as a whole, he was a highlight of the film. The plot flowed really well and the pacing was brilliant, culminating in a really well made film.
Iron Man – 8/10
Iron Man holds a special place for many Marvel fans for being the starting point of the MCU and the introduction of RDJ as Tony Stark and Iron Man to the mainstream, the film isn't over the top or flashy but it just works really well nonetheless, it has great characterization and excellent writing. And a great balance of drama and humour, driven by RDJ as Tony, a role he seems to have been born to play.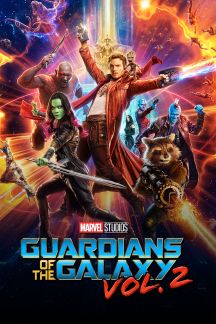 Guardians of the Galaxy Vol 2 – 7.5/10
The latest Guardians film is a right blast, maybe not to the heights of the original Guardians or Civil War but it's a great thrill ride nonetheless, seeing the Guardians return to their dysfunctional ways and now with added members, sort of…. in Nebula and Yondu, the crews interaction again is the heart of the film and the humour has definitely been elevated, with the jokiest MCU film yet. The stakes are also upped this time around in a surprisingly deep and hard hitting turn that you probably won't see coming, the visuals are also fantastic in easily the most colourful and vibrant looking Marvel film yet and that's not forgetting the new, great soundtrack of course, bravo Mr Gunn, you've made another hit.
Doctor Strange – 7.5/10
An entry in the Marvel films that full on brings in the mystical and magical aspect of the comics, Dr Strange is a pretty solid film overall, first of all having a incredible cast and great casting in Benedict Cumberbatch as Stephen Strange, the film brings something different to the MCU in the way Ant-Man brought something different with its heist element and Ant-Mans powers. Magical powers, fantastical and mind bending visuals to name a few things that make an appearance in the film, the plot is engaging and well balanced between action, drama and humour, like any Marvel film.
Ant Man – 7/10
The film in the MCU that no one really talks about anymore is a spin on the tale of the Ant Man and with Scott Lang taking on the mantle, the film is a lot of fun and brings new action and inventive visuals to the MCU, as well as a different type of hero. It doesn't stray too far from the Marvel formula but that's not a bad thing as the film is a good, entertaining watch, the cast is great and Paul Rudd in particular feels like a perfect choice for Scott Lang.
Thor – 7/10
Thor is a film I really enjoy and a film I end up wanting to re-watch the most apart from Guardians and The Avengers and it's because it's such a well made film, visually it's stunning an seeing the locales of Asgard in its' colourful, alien looking world was great. The plot is great and has an almost theatrical structure to it, coupled with the dialogue and great performances.
With Loki and Thor playing off each other, Tom Hiddlestone is fantastic as Loki and Chris Hemsworth is great as Thor. It's also a very comedic film even for Marvel but it was balanced with drama and serious moments, expanding the MCU into other realms and worlds and bringing magic into play, in a way, paving the way for films to come like Guardians, Doctor Strange.
Captain America – 7/10
Captain America is a perfectly good film, very well cast, especially Chris Evans as Cap and Hugo Weaving as Red Skull but I suppose it's just not as memorable as some of the other MCU film for me, but in saying that, it's still a well made and enjoyable film. With some good performances, Tommy Lee Jones was great as a cynical, war weary general and seeing a different time era entirely in a Marvel film was cool as was chronicling Captain Americas' story, which was quite compelling in itself, in relation to WWII and his fictional role in it.
Thor The Dark World – 6.5/10
Thor The Dark World was actually a pretty fun film, visually great like the first Thor but with added stakes, Hiddlestone gets to expand his role as a complex and damage Loki, though he's sort of playing characters in the film the entire time for his own needs. While Thor and Jane go through some issues, they more or less make up like half way into the movie, Thor is given more of a challenge and a better villain to fight in Malekith and their final fight is great to watch with its' dimension bending but it was a bit short. Other than that, the side characters were good comic relief for the film and made it an entertaining ride.
Iron Man 2 – 6.5/10
Iron Man 2 is regarded by quite a few Marvel fans as being outright bad but I disagree, the film is well made and has a tight story, RDJ is in his element as Tony and rocking the cocky billionaire persona but I suppose the film falls short of being a great film for its' lack of a great villain, which Whiplash definitely wasn't. The action in the film is great though and Tony /Rhodes playing off each other are still some of the funniest scenes in the MCU.
The Incredible Hulk – 6.5/10
The official start of the MCU, The Incredible Hulk is also ironically one of the lesser memorable films, though it does provide a solid, good portrayal of the Hulk and has some good performances in it, namely be Edward Norton and Tim Roth, the film isn't bad but it's not necessarily great by any means either. It also misses out on being the definitive layout for Marvel films to come in combining good humour, action and great pacing, though it does look great and it has some great action scenes.
Iron Man 3 – 6/10
Iron Man 3, where to begin… unfortunately the film was a misstep and just didn't quite work for me, Tony Stark is still a great character but odd misdirection regarding Killian and The Mandarin who should just have been the actual Mandarin in the film was just unnecessary. The acting was good but trying to give Tony a dark streak and have him battle his inner demons was at odds with the tone present through the movie in general, showing Tonys' vulnerablity is a nice idea but it also isn't really fun to watch. Also I wanted to see Iron Man in action and doing his thing, motor mouthed and arrogant but that didn't quite happen which was a shame.